Johnson's family had a private pathologist conduct another autopsy which concluded that Johnson died from blunt force trauma. On October 31, 2013, the U.S Attorney for the middle district of Georgia announced that the office would open a formal review into Johnson's death. Johnson's family is dissatisfied with the pace of this review as well.
In concluson, there is currently no evidence of the performer of this heinous crime. However, there are a few pieces of pictures and video, of Kendrick Jonson BEFORE his demise. Here they are....
WARNING: THESE PHOTOS CONTAIN DISTURBING IMAGERY OF THE BODY OF KENDRICK JOHNSON. VIEWER DISCRETION....IS ADVISED!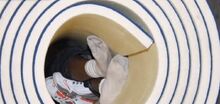 Ad blocker interference detected!
Wikia is a free-to-use site that makes money from advertising. We have a modified experience for viewers using ad blockers

Wikia is not accessible if you've made further modifications. Remove the custom ad blocker rule(s) and the page will load as expected.